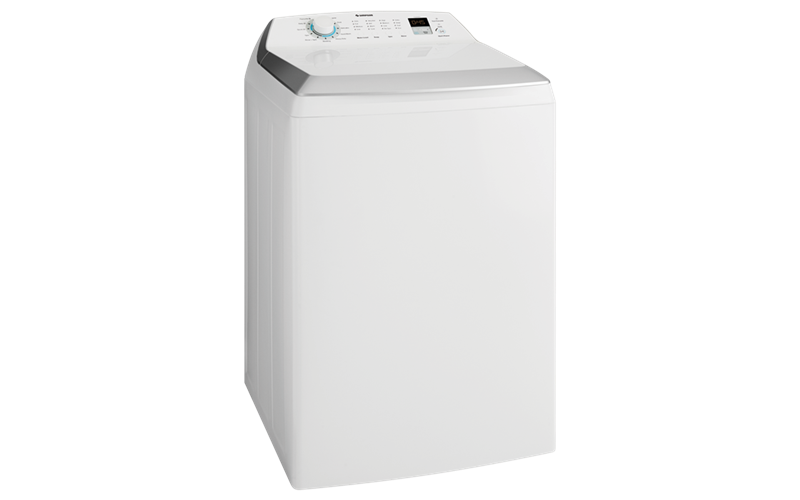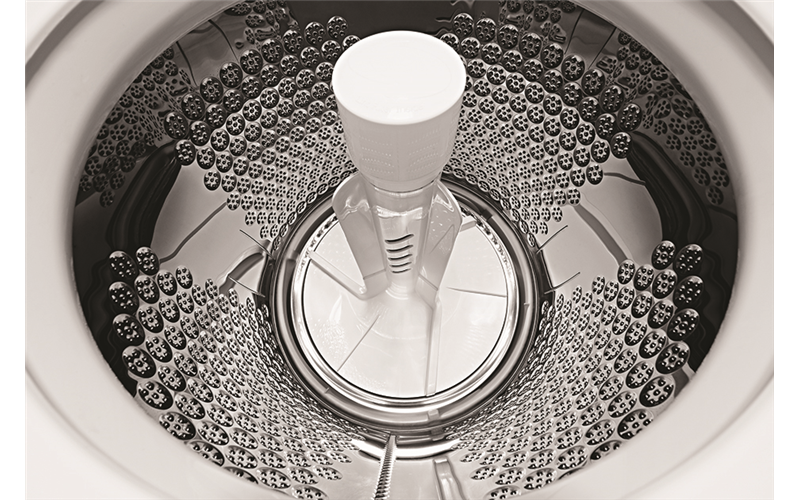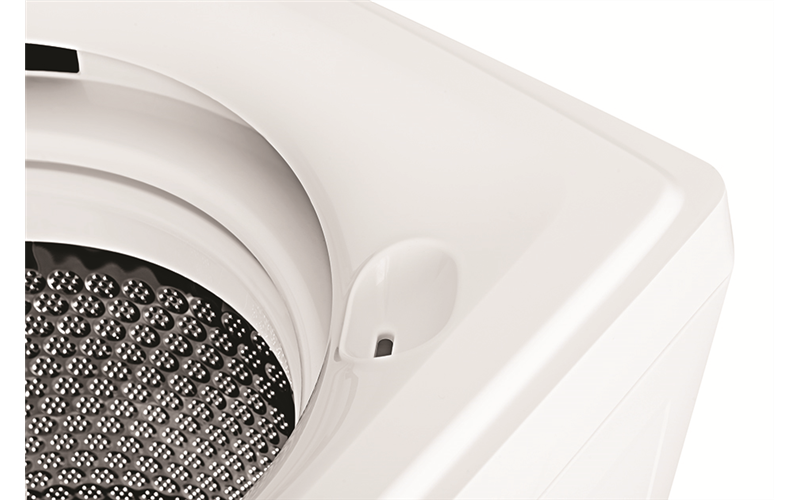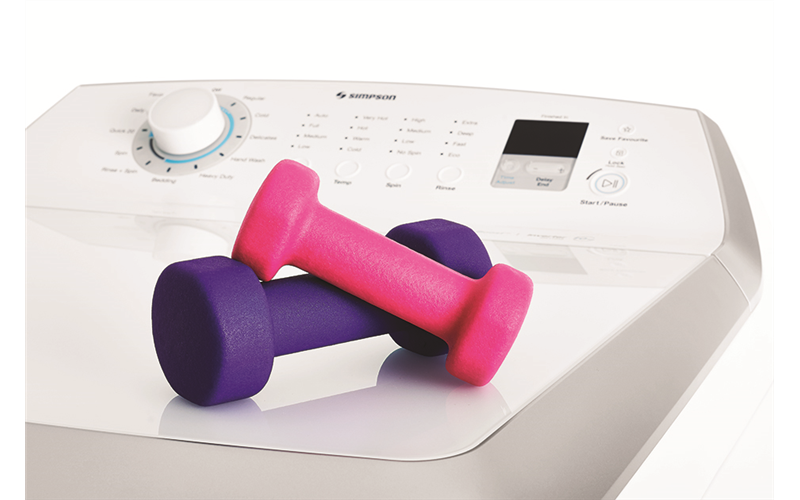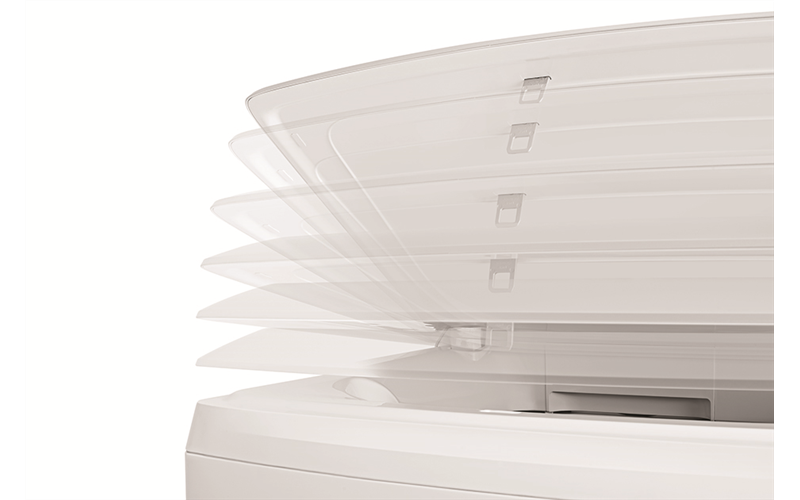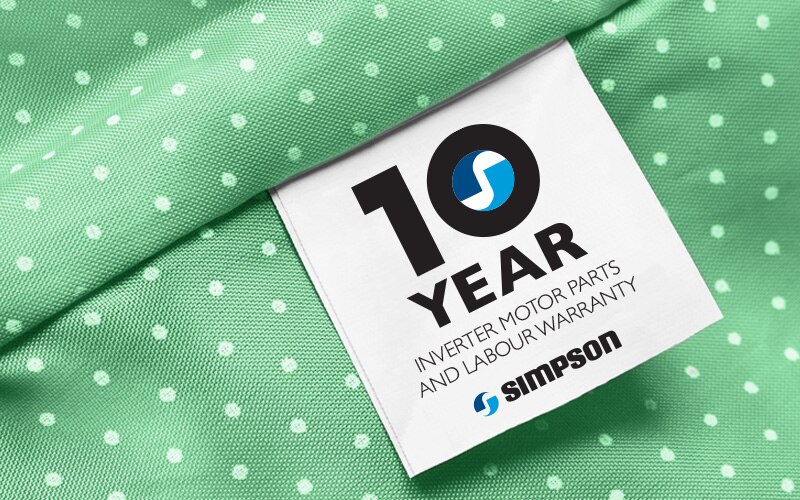 SWT1043
10kg ActiveBoost top load washer
10kg ActiveBoost top load washer
is rated out of
5
by
227
.
10kg EZI Set top load washing machine with ActiveBoost detergent pre-mixing technology, 4 Energy Star rating, Inverter motor, Time Adjust function, everyday fast wash programs and durable glass lid with soft closing.
Key Benefits
Our best washing results in cold water
With ActiveBoost technology, detergent and water is premixed in a separate chamber before spraying onto your clothes, meaning less detergent residue at the end and an even, cleaner result than ever before.
Key Benefits
Effortlessly organise your busy life
Let us help you stay organised. With Time Adjust, you can increase or reduce the total wash times to fit into your life. Plus, when used with the clever Delay End function, you can even decide when you want it to end. Now that's convenient!
Key Benefits
Save time with fast wash programs
Sometimes you just need to get a few things clean fast and that's where the super Quick 20 minute program comes in handy. The Daily 45 minute program is ideal of your regular loads.
Key Benefits
Simply save and use your favourite program with one touch
Save time and make life a little easier by saving your favourite wash program. This easy to use feature allows you to save your most used cycle and then use it at the touch of a button.
Key Benefits
Durable and easy to clean premium lid
The toughened glass lid is not only stylish but durable. Its scratch resistant flat surface can be used as an additional work space in your laundry room and best of all its easy to wipe clean.
Key Benefits
An inverter motor that really lasts
Enjoy better care for your clothes with our super efficient inverter motor. It's not only durable, but also saves on energy too. So reliable, it has a 10 year parts & labour warranty on the inverter motor.
Key Benefits
Agitator wash action
With a gentle and effective agitator wash action, all of your clothes are in safe hands. Our proven top load washer agitator system ensures your entire load is washed evenly and gently. The agitator helps to prevent tangling during the wash and spin cycles.
Key Features
ActiveBoost
Save your favourite program
Inverter motor
Auto water level sensing
A control panel that is easy to use
Quick 20 minutes program for small loads
Soft closing lid
Agitator wash action
Delay end option to plan when your wash finishes
Rated

2

out of

5
by
Jordee
from
water level issues
Bought this a few months ago. No matter what water level i select it only ever puts in a couple of litres, not even enough to wet the clothes. still waiting on a fix. Disappointing.
Date published: 2020-08-20
Rated

4

out of

5
by
Boss lady
from
The tall one
Wash cycle seems satisfactory, but believe manual override per our okd machine was useful. Very high, lower design preferred, not all of us are 2 metres tall. Locking lid too difficult to inlock. Instructions hard to follow ar times. Sometimes being too clever makes operation too complicated.
Date published: 2020-08-02
Rated

5

out of

5
by
Tinkerbel
from
Love this machine! Easy to use. Great price.
Purchased this machine 3 weeks ago & loving it so far. I was dubious, as I was coming from a machine that didn't have an agitator, & was worried about going back to an agitator machine. But very happy. Has a program for everything. I have my favourite program set & throw the load in, set to favourite, hit start & away it goes. The only thing I don't like, is the safety locking lid.
Date published: 2020-08-01
Rated

5

out of

5
by
Mazz
from
Great features
Am very happy with the machine I have had it for month now love it
Date published: 2020-07-28
Rated

5

out of

5
by
Mindy1802
from
Great Machine
I am extremely happy with my purchase of this 10kg Machine. Washes great, nice and quiet and a good choice of wash settings
Date published: 2020-07-26
Rated

5

out of

5
by
Donelle
from
Awesome washing machine
Bought 3 weeks ago and so far am LOVING my new machine! My mum has only ever had Simpson washing machines and is on her 3rd one due to upgrading in 40 years!
Date published: 2020-07-25
Rated

2

out of

5
by
Christos
from
Bad nocking on water pipes .Replaced with LG
I bought this a month ago as a replacement for Fisher and paykel , because the Fisher could not wash in hot water on regular cycle. Everything good except long cycle 1.5 he on regular, Previous Fisher and paykel which I replaced after 17 years was washing in hot water. So does the Simpson , but the big noking noise when water comes in .
Date published: 2020-07-24
Rated

5

out of

5
by
Lykkita
from
Love it
Absolutely love my new washing machine. Very easy to use.
Date published: 2020-07-24
Rated

5

out of

5
by
J AND M
from
our new Simpson
absolutely love our new machine, very quiet, easy programming, great machine
Date published: 2020-07-19
Rated

1

out of

5
by
Stacey
from
I do not recommend this product
Very noisy. Cycle takes too long. And is constantly stopping because of the E17 error code. Very frustrating every time I do a load .
Date published: 2020-07-16
Rated

2

out of

5
by
thebaggins
from
Only lasts the warranty period
Good while it worked but of course as with all Electrolux washers it only lasts to just after the manufacturers warranty and then dies. This is the 4th Simpson 10kg washer we have had and rarely do they last more than 2 years. This one started to leak a few months ago and then would not wash small loads before coming severely unbalanced in spin. Finally the drain pump stopped working and that was it. Luckily I always pay for extended warranty and we ended up with a store credit in lieu of getting another piece of junk as a replacement. Avoid at all costs if you are a large family who need to wash a few loads a day.
Date published: 2020-07-14
Rated

1

out of

5
by
Tony
from
Worst product ever
I had water leaked problem two times in 2 years!! Is that possible?
Date published: 2020-07-13
Rated

4

out of

5
by
Weirdunclebob
from
Almost perfect
Works great, all the features that I wanted. My two gripes: 1. The 'end of cycle' alarm is far too quiet. If I'm not in the laundry I can't hear it unlike the previous Simpson washer I had which I could hear from my lounge chair through the kitchen. Very annoying. 2. I've just discovered that Simpson's owners, Electrolux, have a very poor score - 11/100 - on the Corporate Information Transparency Index so until they vastly improve that, I'll not be purchasing any more of their products. Disappointed that I didn't know this beforehand
Date published: 2020-07-10
Rated

5

out of

5
by
Paul
from
A supurb machine, money well spent!
This was a replacement for our ten year old Simpson 8kg washing machine; which was still functioning, however we decided to upgrade. Appliances Online delivered the machine within a week, and removed the old faithful 8kg unit. The 10kg new model is absolutely brilliant; with easy to use features, covering additional wash cycles. The self locking lid is a great feature for those with inquisitive youngsters in the house. The detergent and softener dispenser ensures no more detergent marks on cloths, and the correct amount of powder or liquid is used. It is reasonably quiet during most cycles, however is a little noisey on spin, although not overly so. It was easy to level with all legs adjustable. It tends to automatically stop large items, such as bedding, becoming settled on one side and causing the spin cycle to become unbalanced and stop. I would highly recommend this product to those with a large wash; indeed with automatic water temperature and level, it is a breeze to use for all loads, from delicates to stained sports uniforms.
Date published: 2020-07-10
Rated

5

out of

5
by
Lisa52
from
Fits blankets in
i brought this from good guys east maitland great size and washes great
Date published: 2020-07-07
Rated

5

out of

5
by
Jharly
from
The best
Great machine great for our family of 9 , best buy
Date published: 2020-07-02
Rated

5

out of

5
by
Suellen
from
Great machine
This is the 3rd. Simpson washing machine I have owned so I think that says it all. More than happy
Date published: 2020-06-27
Rated

5

out of

5
by
Daph
from
Love it!
I have always had Simpson washing machines without any problems. I like this one but still getting used to it. Unlike my last one, it Durango make a little noise to let me know that it's finished - bit disappointed in that but it washes well.
Date published: 2020-06-15
Rated

1

out of

5
by
Alison5
from
Lemon machine - Simpson SWT1043
Purchased 25.6.17 Repaired 24.11.17 Repaired 18.12.17 .............. Leaking a major amount of water from the same place. So it's a recurrent problem, as we have 2 x month long holidays away. It is 2 person household. The machine does 2-3 washes per week. As my uniforms are washed in the 30 year old twin tub. Regards front line nurse
Date published: 2020-06-05
Rated

4

out of

5
by
NancyD
from
It's ok.
It's a very noisy machine but clothes come out clean. Previous to this I had a 9kg machine which I could fit queen size doonas in, this is a 10kg machine but the tub is tiny! That is what I am most unhappy about. I had to purchase this while we were in Covid lock down so could not see it first. On a positive note I would not hesitate to purchase from appliances online again. They were the cheapest, free delivery, took away my old one and packaging for new one. Made sure it worked and left, and I received it within 2 days of ordering! Gr e at communication through out.
Date published: 2020-05-29
Rated

5

out of

5
by
Nessa
from
Favorite
So happy with the favourite option. Set n go ,no need to push all the buttons
Date published: 2020-05-26
Rated

1

out of

5
by
Kylie
from
Very noisey
I brought this machine 3 weeks ago. It is a very noisy machine. Leave marks all over black clothes.
Date published: 2020-05-25
Rated

5

out of

5
by
Cammo
from
Fantastic Machine
This is now the second Simpson washing machine we've had the last one lasted 17 years with a family of 6 and the new one seems even better and so easy to use love it
Date published: 2020-05-20
Rated

5

out of

5
by
Sue53
from
Very quite compared to my old machine
Great service was delivered and installed when I was told it would be
Date published: 2020-05-20
Rated

5

out of

5
by
Alby
from
Good product.
Very happy with this machine. Washes and spins very good.
Date published: 2020-05-19
Rated

5

out of

5
by
Alby
from
Simpson 10kg washing machine
Very happy with this machine. Washes very good and they come out quite dry.
Date published: 2020-05-19
Rated

5

out of

5
by
Lucia72
from
Simpson washing machine SWT1043
I bought this about 1 month ago, I absolutely love it. So easy to use, filter sock easy to clean. Washing comes out very clean.
Date published: 2020-05-08
Rated

5

out of

5
by
Ali777
from
Brilliant size washing machine
Totally happy with the look, the size and the price of this brilliant washing machine
Date published: 2020-04-30
Rated

5

out of

5
by
Manz
from
So easy to use!!
Love love love this machine!! So easy to use with some great features! Nice and quiet and fits heaps in - I can now put bedsheets in for 5 beds all at ONCE!
Date published: 2020-04-28
Rated

3

out of

5
by
L_D_
from
It's okay
I chose this washer to replace my broken Fisher & Paykel. I selected this model because it has a removable lint filter, and I felt that my old washer did not remove lint well. This washer's lint removal performance is similar to my F&P - average. However, this washer does not have the smart features that my F&P had, for example the "how dirty" function that allowed my to alter the wash time. While the machine works well enough, I would prefer my old washer. Regardless, the service and delivery provided by Appliances Online was terrific; when I need any new electrical appliance I will gladly purchase from them.
Date published: 2020-04-14
PRODUCT PROFILE
Domestic warranty details (yrs)

2
Capacity (Kg)

10
DIMENSIONS
Total height (mm)

1076
Total width (mm)

670
Total depth (mm)

680
Height with lid open (mm)

1490
Depth with hoses (mm)

730
ENERGY
Energy Star Rating New

4
Energy consumption cold water (kWhr/yr)

127
Energy Consumption Warm (KWhr/yr)

354
Water efficiency star rating

3.5
Water consumption (litres)

122
WASH PROGRAMS
Number of Programs

11
Toploader Wash programs

delicates,hand wash,rinse and spin,heavy duty,Regular wash,Cold wash,Bedding,drain and spin,Daily 45,Quick 20,Favourite
Wash options

wash temperatures,variable water level,Rinse option,spin selection
weight (kg)

10
Dispenser

bleach dispenser,Softener dispenser,Powder or liquid detergent dispenser
On screen stain guide

No