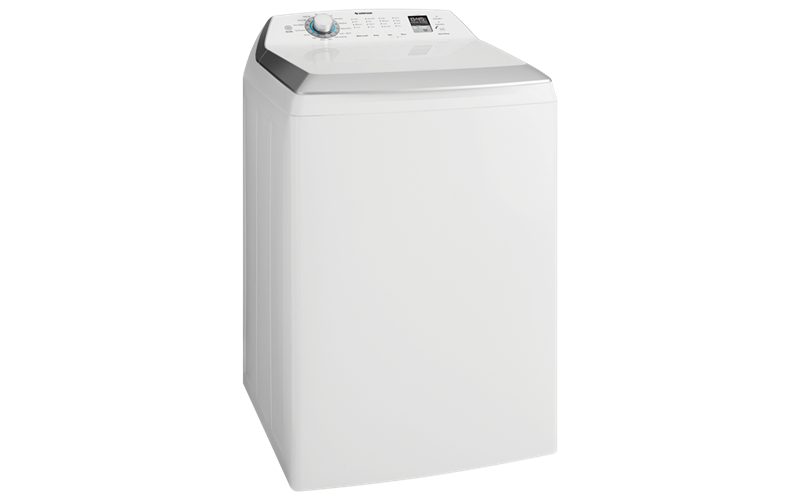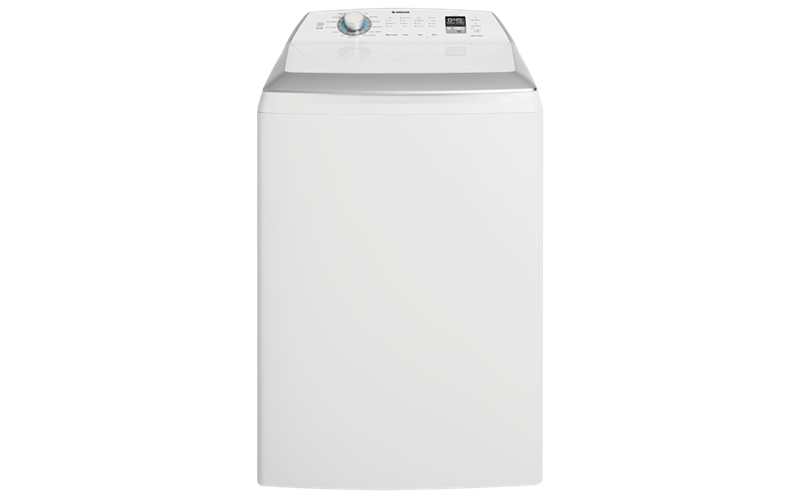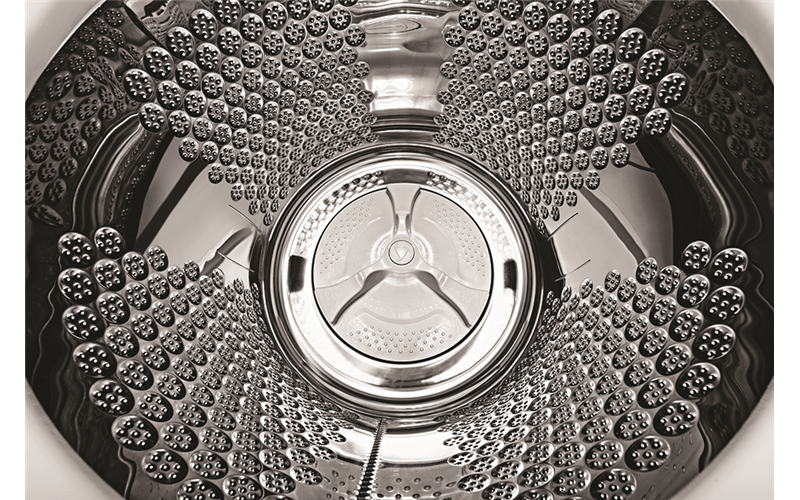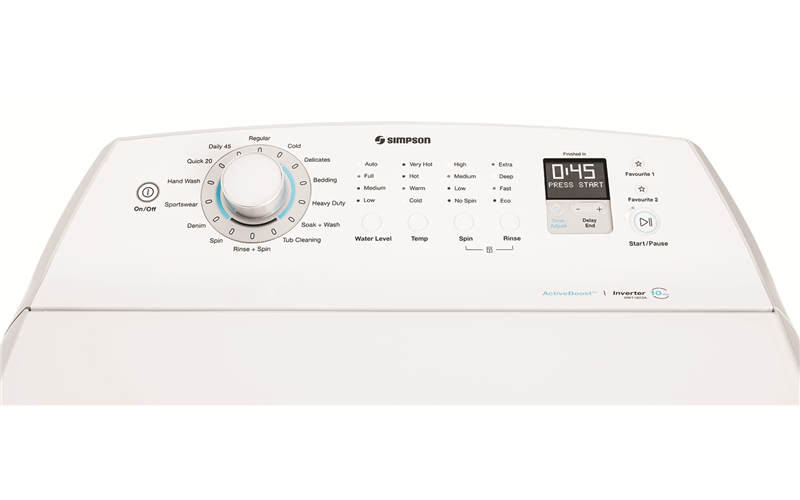 SWT1023A
Top Load Washer 10kg
Top Load Washer 10kg
is rated out of
5
by
40
.
Simpson 10kg top load washing machine with ActiveBoost detergent pre-mixing technology, 4.5 Energy Star rating, Ultra Wash System, Inverter motor, Time Adjust function and everyday fast wash programs.
Key Benefits
Our best washing results in cold water
With ActiveBoost technology, detergent and water is premixed in a separate chamber before spraying onto your clothes, meaning less detergent residue at the end and an even, cleaner result than ever before.
Key Benefits
Amazing performance with the Ultra Wash System
Keep your clothes looking their best. The Gentle Wash Agitator moves clothes in multiple directions to deeply clean and gently wash even your most soiled items.
Key Benefits
Effortlessly organise your busy life
Let us help you stay organised. With Time Adjust, you can increase or reduce the total wash times to fit into your life. Plus, when used with the clever Delay End function, you can even decide when you want it to end. Now that's convenient!
Key Benefits
Save time with fast wash programs
Sometimes you just need to get a few things clean fast and that's where the super Quick 20 minute program comes in handy. The Daily 45 minute program is ideal of your regular loads.
Key Benefits
Simply save and use your favourite program with one touch
Save time and make life a little easier by saving your favourite wash program. This easy to use feature allows you to save your most used cycle and then use it at the touch of a button.
Key Benefits
Durable and easy to clean premium lid
The toughened glass lid is not only stylish but durable. Its scratch resistant flat surface can be used as an additional work space in your laundry room and best of all its easy to wipe clean.
Key Features
ActiveBoost
Save your favourite program
Inverter motor
Auto water level sensing
A control panel that is easy to use
Quick 20 minutes program for small loads
Soft closing lid
Delay end option to plan when your wash finishes
Time remaining display
Rated

3

out of

5
by
Sallyann
from
Wash Less, Live More
This is my 2nd replacement machine in 18 months. My old machine was obsolete and I received newer model. It seems noisier and these washers are harder on clothes. However, I can fit so much in I have drastically reduced the amount of time wasted on doing the washer. It is a life saver when it come so to washing quilts
Date published: 2018-03-12
Rated

4

out of

5
by
Sharon
from
Easy to use
Bought this machine when my front loader decided to die. Loving the big load capacity, but I'm still getting used to how much powder to use. Getting some lint and powder residue on the clothes. I think the end beep needs to Be continuous, I keep forgetting about it as it beeps once nd then switches itself off.
Date published: 2018-04-29
Rated

5

out of

5
by
sallysue
from
Top notch top load!
I've been considering buying this for a while. I have so many friends who love it! Glad I finally got one.
Date published: 2017-04-11
Rated

4

out of

5
by
Lisa284
from
Great Family Machine
We are very pleased with the machine, washers very well, and very large capacity, and there is no turnstile in the middle of the tub, so heaps of room. You just cant alter the time of the wash after it starts, and it is a bit noisy, but worth it, because of the results it provides.
Date published: 2019-02-26
Rated

5

out of

5
by
Frank H
from
Simpson Quality!
Recently purchased my SWT1023A washing machine & really pleased with the performance & price. Easily washes sheets, pillow slips & doona cover in one simple wash. Love the 20 minute quick wash & the overall ease of use. I would Highly Recommend this washer from Simpson.
Date published: 2017-11-24
Rated

5

out of

5
by
Mumof3
from
Great size and quiet
This machine allows me to get such large loads done save by time and spins the clothes so well they take less time to dry. Machine is quiet and has handy delay time end function which means I can load it before work but not come home to stinky clothes
Date published: 2018-05-27
Rated

5

out of

5
by
bevolin
from
Large bowl size, ample features
I love this machine, washes well and has a large bowl so easy to fit bulky items or a very large wash, auto level on water is excellent and makes this machine very water efficient, and still allows a complete fill for oversize items, quilts etc.
Date published: 2019-08-22
Rated

4

out of

5
by
Gabi
from
Great size!
Bought this a week ago and it washes beautifully. The size is perfect for minimising the number of washes and electricity consumption, plus can wash blankets and quilts at the end of each season. I was disappointed at how noisy it is though.
Date published: 2017-08-09
Rated

4

out of

5
by
MrTad
from
Safe value for money 10kg betr
I bought this machine to replace my Fisher Paykel WL1068PW1 - which didn't even last 4 years. The lid broke twice, circuit board, stabilizer rods etc.. At $1300 what a piece of rubbish - despite the 1100rpm. It would loud on filling & out of balance. Big regret not to get an extended 3yr warranty despite paying top dollar Simpson do have a reputation for being bullet prof - so lets see Anyway - this machine is more compact (narrower), a but unsettling at 1st but we got used to it & gives more room in the laundry Its much quieter & washes just as well as the FP - without going out of balance all the time like the FP. So my wife hated it at first & grew to like it better than the FP & 25-30% cheaper, why not. My only minor concern is that on the high spin cycle it does appear to vibrate excessively (despite me putting the machine on a gym mat) - and the inner drum appears to nick the outer shell. So I will call Simpson man to check it out. So buying a washing machine is a difficult choice but for me the Simpson is a safe bet. Good luck!
Date published: 2018-12-07
Rated

1

out of

5
by
FNQld
from
Not happy at all. Does not spin.
Did not work right from delivery. No replacement for a few weeks. Think that I would have been better serviced by an in store purchase rather than on-line purchase. Very disappointed by first on-line purchase experience.
Date published: 2019-12-20
Rated

3

out of

5
by
kath47
from
An Ok machine
I bought this washing machine 3 weeks ago and haven't been able to use it for 1 of those weeks so far. Still waiting for repairs to be done. Disappointing that a brand new machine can have a fault so quickly.
Date published: 2017-10-03
Rated

5

out of

5
by
prags1
from
Mr Anthony Pragnell
Very early to call, but so far a great machine. Wanted the larger size for blankets etc, but also good for small load. got fed up with a front loader taking so long so converted back to top loader
Date published: 2017-07-24
Rated

2

out of

5
by
Deafening
from
EXTREMELY NOISY!!!!!
I purchased one of these a couple of months ago and it works great so long as you don't mind having to yell to talk to the person next to you. Very loud on the spin cycle. I wish I didn't buy it.
Date published: 2019-10-15
Rated

5

out of

5
by
Dragontragic
from
So far , so good
After several weeks "the Boss" is happy with this washer - no agitator , no lint filter , powder mixes well , washes well on cold cycle , quiet : the 20 min. & 45 min. washes are great options.
Date published: 2019-08-07
Rated

5

out of

5
by
Lisa2
from
I love this machine
Simpson have always been a great brand. This machine is easy to use, has many great wash options and the clothes are so clean and almost dry - less time to dry. Also, super quiet
Date published: 2017-11-30
Rated

1

out of

5
by
Goldie
from
Broke down after 2 months
Bought the product in October. 2 boards failed which meant unable to removed washing from machine until technician arrived to diagnose problem.
Date published: 2020-02-17
Rated

1

out of

5
by
Sharon19
from
Terrible
I have 3 Simpson top load washing machine and they all unbalance and leave lint and marks on your clothes. You should be ashamed of yourself Simpson
Date published: 2019-02-08
Rated

5

out of

5
by
Jenmar
from
Good features
We bought it a couple of months ago and so far running great. The only thing that could be improved is the buzzer when finished could be louder.
Date published: 2019-10-08
Rated

5

out of

5
by
Rommel
from
Fits so much in one wash
I'm really happy with my purchase, great machine, lots of washing options, no filter to remember to clean, not too loud, really big machine
Date published: 2018-08-16
Rated

5

out of

5
by
Aussie27611
from
Great
I got this one because I had a Simpson but only had it 3yrs so they offered me this. So far it's great only had it about a month.
Date published: 2019-10-18
Rated

5

out of

5
by
Katie
from
Simpson
I'm very happy with my updated version of my old Simpson Thankyou :) . Although , I am still waiting on my free towels
Date published: 2017-07-10
Rated

1

out of

5
by
Annie177
from
Don't like
Wish I could send it back ,don't like it at all ,not what I thought it would be.i would give no stars but I have too
Date published: 2018-01-28
Rated

5

out of

5
by
Alison c
from
Really easy to use and perfect for my situation.
I like that it has no agitator so clothes don't get tangled and I can wash blankets an quilts
Date published: 2017-10-29
Rated

5

out of

5
by
Tutu22
from
Excellent buy
Great washing machine, purchased about a month ago... recommend to any interested buyers...
Date published: 2019-08-06
Rated

5

out of

5
by
JONOII
from
EXCELLENT
Wonderful machine, easy to use, great results and reasonably quiet, highly recommend.
Date published: 2017-10-11
Rated

4

out of

5
by
anne s
from
liked all the features and it is easy to use.
happy with my washing machine like all the features the washing machine offers.
Date published: 2019-05-21
Rated

5

out of

5
by
Colinjohn
from
Excellent washing machine.
Really happy with machine and the delivery team was efficient and helpful.
Date published: 2018-12-20
Rated

5

out of

5
by
prags
from
very happy with purchase
large machine capable of small loads. good wash on any setting
Date published: 2017-08-09
Rated

5

out of

5
by
Bertha
from
Great featurs
I love using. My new machine it does a fantastic wash.
Date published: 2019-10-09
Rated

4

out of

5
by
NadaNina
from
Excellent size and features
I am happy with my machine but must admit it is noisy
Date published: 2018-12-16
PRODUCT PROFILE
Domestic warranty details (yrs)

2
Capacity (Kg)

10
DIMENSIONS
Total height (mm)

1076
Total width (mm)

670
Total depth (mm)

680
Height with lid open (mm)

1490
Depth with hoses (mm)

730
ENERGY
Energy Star Rating New

4.5
Energy consumption cold water (kWhr/yr)

111
Energy Consumption Warm (KWhr/yr)

270
Water efficiency star rating

4
Water consumption (litres)

102
WASH PROGRAMS
Number of Programs

14
Toploader Wash programs

delicates,hand wash,rinse and spin,heavy duty,Regular wash,Cold wash,Bedding,drain and spin,Tub Cleaning,Daily 45,Quick 20,Soak + Wash,Denim,Sportswear
Wash options

wash temperatures,variable water level,Rinse option,spin selection
weight (kg)

10
Dispenser

Powder or liquid detergent dispenser,bleach dispenser,Softener dispenser
On screen stain guide

No