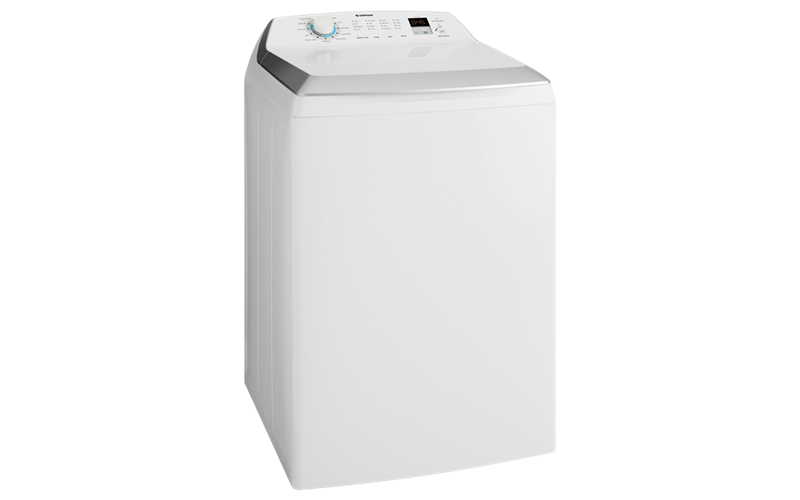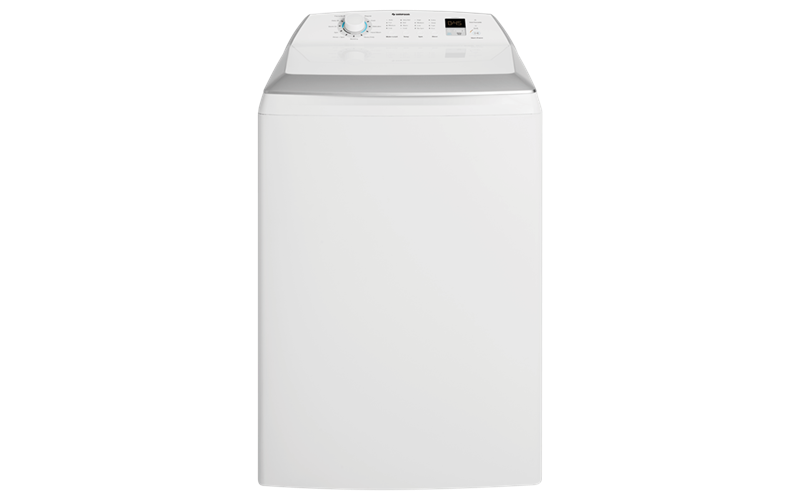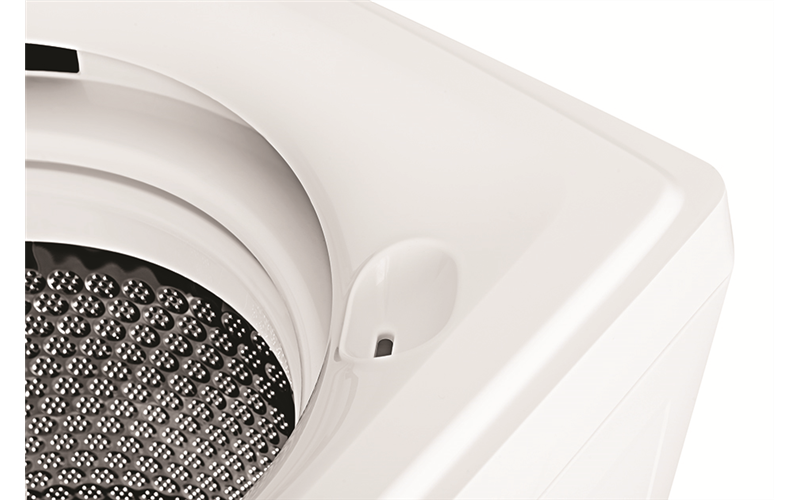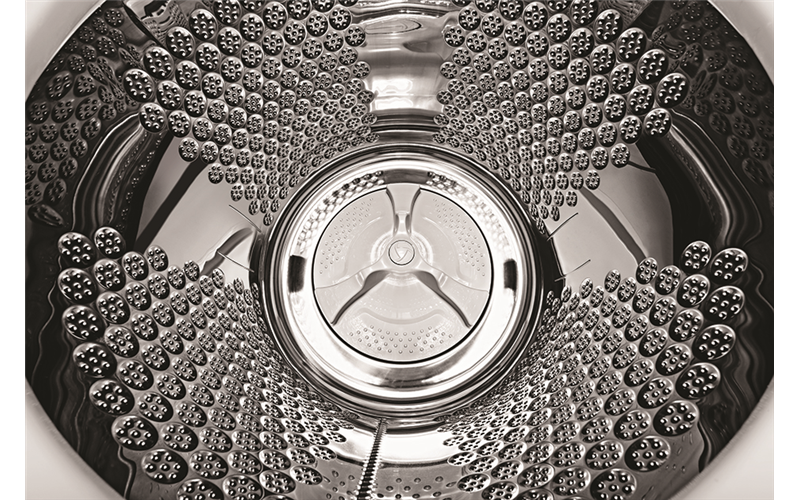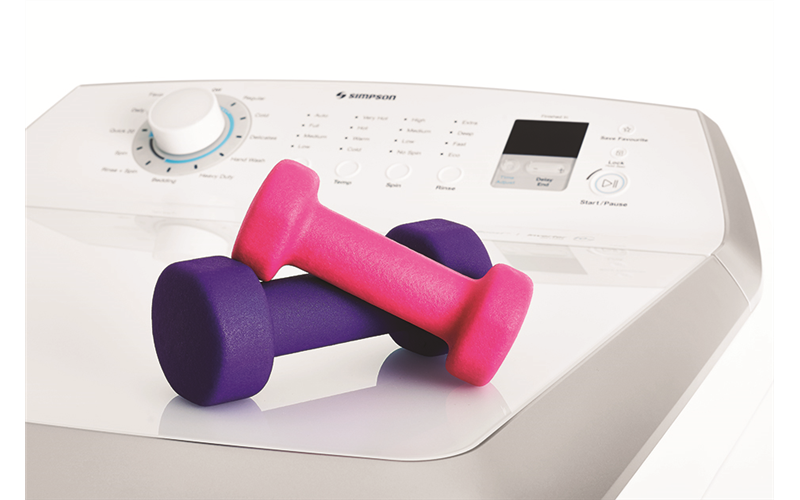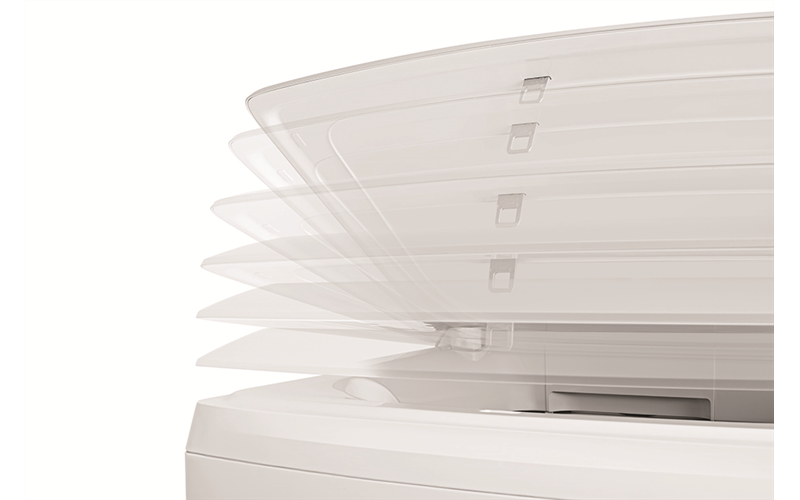 SWT9043A
Top Load Washer 9kg
Top Load Washer 9kg
is rated out of
5
by
83
.
Simpson 9kg top load washing machine with ActiveBoost detergent pre-mixing technology, 4 Energy Star rating, Ultra Wash System, Inverter motor, Time Adjust function and everyday fast wash programs.
Key Benefits
Our best washing results in cold water
With ActiveBoost technology, detergent and water is premixed in a separate chamber before spraying onto your clothes, meaning less detergent residue at the end and an even, cleaner result than ever before.
Key Benefits
Amazing performance with the Ultra Wash System
Keep your clothes looking their best. The Gentle Wash Agitator moves clothes in multiple directions to deeply clean and gently wash even your most soiled items.
Key Benefits
Effortlessly organise your busy life
Let us help you stay organised. With Time Adjust, you can increase or reduce the total wash times to fit into your life. Plus, when used with the clever Delay End function, you can even decide when you want it to end. Now that's convenient!
Key Benefits
Save time with fast wash programs
Sometimes you just need to get a few things clean fast and that's where the super Quick 20 minute program comes in handy. The Daily 45 minute program is ideal of your regular loads.
Key Benefits
Simply save and use your favourite program with one touch
Save time and make life a little easier by saving your favourite wash program. This easy to use feature allows you to save your most used cycle and then use it at the touch of a button.
Key Benefits
Durable and easy to clean premium lid
The toughened glass lid is not only stylish but durable. Its scratch resistant flat surface can be used as an additional work space in your laundry room and best of all its easy to wipe clean.
Key Features
ActiveBoost
Save your favourite program
Inverter motor
Auto water level sensing
A control panel that is easy to use
Quick 20 minutes program for small loads
Soft closing lid
Delay end option to plan when your wash finishes
Time remaining display
Rated

5

out of

5
by
Lindabelle
from
Wonder Washing!
Our previous Simpson machine was on its last legs (having lasted over 17 years!) And with a new baby we needed a reliable machine. So very glad that we continued with the Simpson brand. This machine is perfect for us. The many washing features suits all requirements and I really don't remember our clothes being as clean! Love the soft closing lid and the ability to save your favourite wash. A little noisey I guess but this is no bother for us. It's still quite than the last one!
Date published: 2017-11-18
Rated

4

out of

5
by
SibK
from
Good Washing Machine
I've had my new washing machine for about a month now, (replaced a Hoover, 14 years of use) I'm happy with it so far. Washes clothes really good. I love that I can pause while cycle has started and soak soiled clothing for longer. It would've been great if I had the option to adjust water temp once cycle has started. I hope it lasts as long as my previous washing machine.
Date published: 2018-03-15
Rated

4

out of

5
by
Robbievb
from
Large capacity
Finally had to replace my old Simpson after 13 years. Decided to go with another Simpson as had been so pleased with the last one. It does seem to take a little longer as it has a slow start with the water stopping and starting which I imagine is so that the powder can be mixed through properly. I find that a little annoying but overall seems to be a great machine.
Date published: 2019-02-07
Rated

4

out of

5
by
Eiko
from
Very easy to use
Mostly happy but still having trouble to determine the correct amount of washing powder to use for each wash. I too much residue found on clothes if too little wash is not 100% clean. Was disappointed to find the lid opens much higher than my old Simpson that I had to relocate my dryer to an inconvenient location. Also not able to find the lint collector.
Date published: 2017-11-07
Rated

4

out of

5
by
Chapstik
from
So far works well.
My last machine was a front loader and may have washed clothes a little more thoroughly. This machine takes a a little while to fill as it seems to juggle the water level. It has not had a load stop through imbalance and the lint filter keeps the clothes free of lint unlike the front loader. I am happy with it at this early stage.
Date published: 2017-08-13
Rated

5

out of

5
by
rosealan
from
Excellent product with easy to use features
I purchased the 9kg Simpson Washing approximately a month ago, it is an excellent product, easy to use features. Operates very quietly for a washing machine even on spin cycles, many great features like self closing lid, quality glass finish on lid, washing quality and is an excellent design. We are very impressed with the product.
Date published: 2019-11-26
Rated

5

out of

5
by
Jess52
from
Solid Work-Horse
I bought this machine five weeks ago and with a family of 5 it has had a lot of use already. With a 9kg capacity I can wash all the towels or sheets in one load, saving water, energy and time. There are lots of wash cycles to choose from; controls are easy to navigate. Washing dries clean and soft. Would buy this product again.
Date published: 2017-11-06
Rated

4

out of

5
by
Catdam
from
As good as my last Simpson
I've had a 9.5kg simpson for 15 years and was very happy with it, except the metal lid rusted out twice. The new model is pretty much the same, but has a soft closing, non metal lid, which is good. The machine is a bit smaller than my last, so can't fit as much in, but it is as reliable as my other. very happy with it.
Date published: 2017-10-22
Rated

5

out of

5
by
Venus82
from
Dial up orgrammes with override to personalise.
Had my new Simpson washing machine for about a month replacing my old Simpson 7.5kg washer, and I am delighted with it. Quick, quiet and efficient doing a really good wash. I can use one of the many programmes, or can override them to make them exactly what I want so I am still in control. Highly recommended.
Date published: 2019-11-05
Rated

5

out of

5
by
Erin H
from
Easy to use
After 10 + years of having our washing machine we were devastated when it died. After some research online and recommendations from family members we bought the Simpson 9kg. We couldn't be happier. We have 4 kids and often a lot of washing and this machine is quiet, easy to use and fast. Highly recommend.
Date published: 2019-10-07
Rated

1

out of

5
by
Bec01
from
Save your Money. This is a rubbish machine
I have had this washing machine for 5 months. The motor has failed and the lock mechanism is broken. I have been waiting 8 day for it to be repaired under warranty and can't get the Electrolux preferred repairer to return my call. NOT happy!! Shouldn't happen with a 5 month old machine! Total Lemon!
Date published: 2020-01-31
Rated

5

out of

5
by
A_G6762
from
Couldn't be happier
I got this one month old and I can't believe how quite it is and how much washing it can fit in. The price was the best around and my mother in law went and bought the exact same one. My fav feature is the favourite button as it makes everything so much quicker by only having to press one button.
Date published: 2018-07-23
Rated

5

out of

5
by
Ungarra
from
Excellent value
We wanted a large machine to replace our previous Westinghouse that threw in the towel after many years of good service. Checked various models and prices' finally settled on the Simpson. It has all what we need and more, economical to run, does a great job and at a price to please.
Date published: 2017-07-14
Rated

4

out of

5
by
miay
from
Simpson 9kg washing machine
The washing machine is quiet and the washing comes out nice and clean. It handles a large load of washing. My only criticism is i am use to washing in cold water and apart from the cold water setting, i would like to use cold water in some of the other settings e.g. quick wash.
Date published: 2018-11-14
Rated

5

out of

5
by
Amos
from
Easy to use and efficient
I bought this Simpson washing machine a few weeks ago and am very happy with it. I previously had a Fisher and Paykel for 8 years and find this machine to be a lot easier to use and washes so much better. The dial makes washing simple and the variety of wash types is great.
Date published: 2017-06-21
Rated

5

out of

5
by
Nicky60
from
Great features
I bought this a month ago and have been very happy with its performance. The auto water level is great as it's use of water is reduced from other top loaders. It has very good load capacity and I find I'm doing less washing now because I can fit more in one load.
Date published: 2018-11-05
Rated

5

out of

5
by
Maggie M
from
Dream Machine
Have been using my new machine (always used Simpsons) for about a month now and I love, love love it. The clothes are coming out beautifully clean, I love the choice of spin speeds and the machine operates gently and quietly. Other features are a bonus as well.
Date published: 2018-11-06
Rated

5

out of

5
by
Naty25
from
So happy with my purchase
I bought a Simpson Washing machine from Appliances online and am very happy with my purchase. The process was so easy and I saved $300 from store prices. Free delivery and installation was included they even took away my old machine for free
Date published: 2017-10-23
Rated

5

out of

5
by
Wayne
from
So far so good
Happy so far. This machine replaced a Simpson too but that machine only lasted 7 years before becoming constantly unbalanced with error codes showing up. Hopefully this one will get beyond 7 years. Like the new soft close lid addition too.
Date published: 2019-11-26
Rated

5

out of

5
by
maxx
from
great machine
we needed a replacement washing machine for our large family and we bought another Simpson as the one we had was also a Simpson. great cycles, easy to work and less things for you to do before washing. we highly recommend this product.
Date published: 2019-12-02
Rated

5

out of

5
by
Jaygirl
from
Simpson 9kg Washing machine
Online purchase was easy as the description of the product was exactly what I wanted and got delivered. Actually it is better than I expected and would highly recommend it for ease of use and size suits a family. Perfect.
Date published: 2018-06-10
Rated

5

out of

5
by
Juliecousti
from
Great
Had it now few weeks and it's great, easy to use, silent and if my mother approves of it, as she uses it more, then it's a winner. Didn't want a digital washing machine for my mother, which is what most of them are now.
Date published: 2020-02-03
Rated

5

out of

5
by
Rod54
from
Simpson 9kg Washing Machine
I purchased my Simpson Washing Machine from Appliances Online and found the Service Excellent. The machine is the best that I have had, very easy to use and great functions with many options to make your wash easier
Date published: 2020-02-03
Rated

5

out of

5
by
sharn
from
Great
I just love my new Simpson top loader washing machine...I can't believe my whites are so white...& so simple to use...FANTASTIC.....great Xmas Preso.....thank you Appliancesonline & Simpson for a great machine.
Date published: 2017-12-11
Rated

5

out of

5
by
Shaz
from
Great Washing Machine
I only buy Simpson washing machines, I've had the 7kg and 9kg washing machine twice. Only issue is I'm too short to reach in to the bottom lol. I don't like front loaders. U can stop a top loader anytime.
Date published: 2019-08-12
Rated

4

out of

5
by
Cathy47
from
Simpson Top Loader
Very happy with it but sometimes you need to turn it off and on to make it start up doesn't always start first time but in saying that it starts after doing it at most twice generally quite reliable start
Date published: 2017-04-27
Rated

5

out of

5
by
JHB34
from
Solid machine
Simpson washing machines are always excellent. Great longevity and as far as I'm concerned, excellent, simple features. This is no exception. I especially love the 20 minute cycle. Highly recommend.
Date published: 2018-10-18
Rated

5

out of

5
by
goddess
from
great features
Love this machine, far better then my old Simpson. The design of the machine is a lot more practical and the different wash cycles allow me to wash most of my clothes in the machine. No more hand washing.
Date published: 2018-11-07
Rated

5

out of

5
by
PvtFunkshun
from
Top Unit!
Very happy with our new Simpson 9kg. It dwarfs our old machine and is significantly larger and only just fits through doorways. Fits queen size bedding easily and has smart water-saving features.
Date published: 2019-08-26
Rated

5

out of

5
by
kagarooni
from
So far I luv it
I have only had my machine for a few weeks and I luv it. Super easy to use great washing result while being gentle on clothes. Loads of wash options powerful machine luv the size for family of 5
Date published: 2019-01-23
PRODUCT PROFILE
Domestic warranty details (yrs)

2
Capacity (Kg)

9
DIMENSIONS
Total height (mm)

1076
Total width (mm)

670
Total depth (mm)

680
Height with lid open (mm)

1490
Depth with hoses (mm)

730
ENERGY
Energy Star Rating New

4
Energy consumption cold water (kWhr/yr)

94
Energy Consumption Warm (KWhr/yr)

310
Water efficiency star rating

4
Water consumption (litres)

92
WASH PROGRAMS
Number of Programs

11
Toploader Wash programs

delicates,hand wash,rinse and spin,heavy duty,Regular wash,Cold wash,Bedding,drain and spin,Daily 45,Quick 20,Favourite
Wash options

wash temperatures,variable water level,Rinse option,spin selection
weight (kg)

9
Dispenser

bleach dispenser,Softener dispenser,Powder or liquid detergent dispenser
On screen stain guide

No