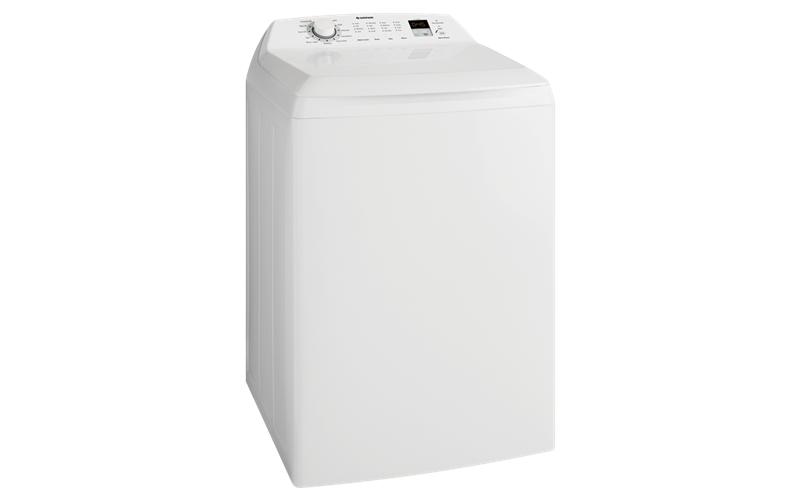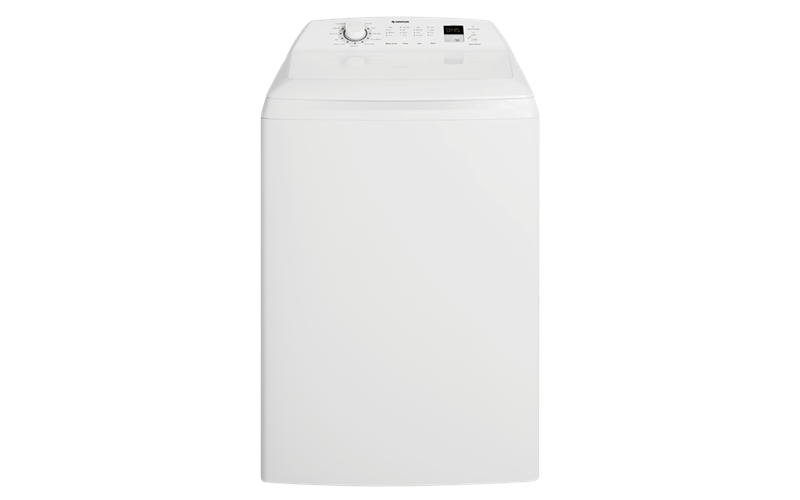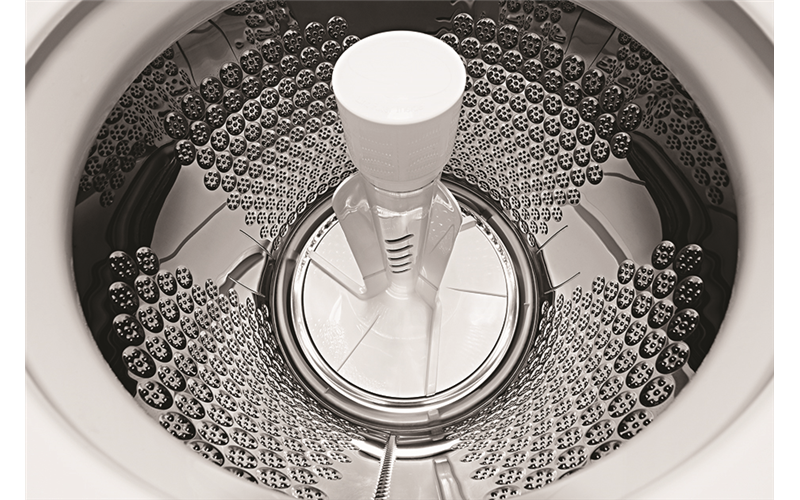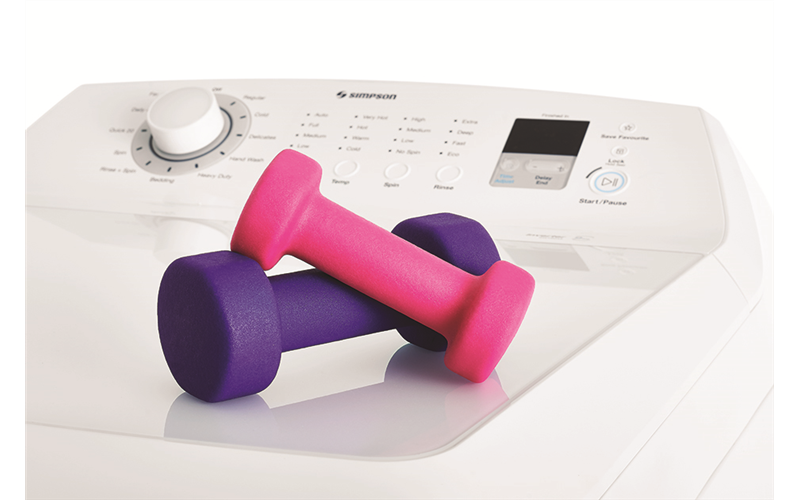 SWT8043
Top Load Washer 8kg
Top Load Washer 8kg
is rated out of
5
by
142
.
Simpson 8kg top load washing machine with 3 Energy Star rating, Time Adjust function, everyday fast wash programs, Save Favourite and durable glass lid with soft closing.
Key Benefits
Effortlessly organise your busy life
Let us help you stay organised. With Time Adjust, you can increase or reduce the total wash times to fit into your life. Plus, when used with the clever Delay End function, you can even decide when you want it to end. Now that's convenient!
Key Benefits
Save time with fast wash programs
Sometimes you just need to get a few things clean fast and that's where the super Quick 20 minute program comes in handy. The Daily 45 minute program is ideal of your regular loads.
Key Benefits
Simply save and use your favourite program with one touch
Save time and make life a little easier by saving your favourite wash program. This easy to use feature allows you to save your most used cycle and then use it at the touch of a button.
Key Benefits
Durable and easy to clean premium lid
The toughened glass lid is not only stylish but durable. Its scratch resistant flat surface can be used as an additional work space in your laundry room and best of all its easy to wipe clean.
Key Benefits
Agitator wash action
With a gentle and effective agitator wash action, all of your clothes are in safe hands. Our proven top load washer agitator system ensures your entire load is washed evenly and gently. The agitator helps to prevent tangling during the wash and spin cycles.
Key Features
Save your favourite program
Auto water level sensing
A control panel that is easy to use
Quick 20 minutes program for small loads
Soft closing lid
Agitator wash action
Delay end option to plan when your wash finishes
Time remaining display
No mess detergent drawer
Rated

1

out of

5
by
jimshack
from
notmuch going for it
bought this and the spin has to be done twice as the clothes are still full of water plus the cap on top of the agitator fall off every time you pull the clothes out of the machine
Date published: 2017-10-02
Rated

4

out of

5
by
FarmerJoe
from
Simpson 8kg top loader
This unit replaced a 9 year old Simpson of almost identical features. The previous machine was quite good but had many annoying nagging beeps and had began to show signs of ageing. The new SWT8043 is quieter and seems to handle the washing more efficiently than the previous model. It is less inclined to stop because of being unbalanced and leaves no lint on the washing. I avoided the impeller types after reading the many unfavorable reviews. All up I would recommend the machine on our experience over 3 months - If the wife is happy so am I.
Date published: 2017-06-15
Rated

1

out of

5
by
Sad bec
from
Swt8043
Brought my Simpson 8 kg Easter 2017 September 17 came up with error message e20 It drains water then it comes up with error I put water more water in by hand and it drains that out but will not start to spin I contacted Simpson and I have been told it will take over a week to get someone to come out to have a look
Date published: 2017-09-05
Rated

5

out of

5
by
Lou Lou
from
Awesome love it
Love this washing machine works like a dream awesome features so many to choose from but very easy to work. Washes the clothes brilliantly water and power efficient could not have bought a better 8kg to loader washing machine thanks Simpson I am a very happy customer
Date published: 2017-11-16
Rated

4

out of

5
by
Katharine
from
Perfect size for blankets or a full family load
Love the size and design however it is quite noisy. The start button is temperamental, even after turning the machine on and off at the power point and on the dial. Does do a great job clay getting everything clean
Date published: 2017-07-02
Rated

1

out of

5
by
Paupau
from
Disappointing
Bought less than a year ago and poor quality, keeps on stopping, either the water doesn't go, or it just stopped halfway of cycle, frustrating cos no error sign at all!
Date published: 2017-09-10
Rated

4

out of

5
by
Dianne
from
Ample programs
Have now been using this machine for a month. Very happy with it and use it most days. Easy installation.
Date published: 2017-07-14
Rated

1

out of

5
by
unhappy
from
Simpson 8 KG Washing machine
I have had Simpson Machines for 30 years.This is the WORST machine I have ever had.It is continuously out of balance.I have had service attendants check and set up the machine to no avail.It vibrates all the time.When I balance the wash it adds extra time.It is very slow to wash.I would like to change it over for a Simpson that really works as I am used to.Extremely unhappy former customer.Would not recommend to my worst enemy and never buy a Simpson product again.
Date published: 2017-12-05
Rated

5

out of

5
by
Drac
from
Simpson machines
I have had my new Simpson washing machine for 3weeks now and it's fantastic
Date published: 2017-08-21
Rated

4

out of

5
by
Norm
from
Good machine
I think that I chose the right model for my household.
Date published: 2017-07-12
Rated

5

out of

5
by
PussayCat
from
Fantastic
Amazing, washes so well! So happy with the product,
Date published: 2017-08-30
Rated

1

out of

5
by
glenda60
from
not happy
I bought new 8kg top washer just prior to Christmas. first load, I thought, holly smoke this unit is noisy. well, to say the unit is noisy is an understatement. Especially on the spin cycle, it sounds like a plan is taking off and jumps all over the place. I don't think I should have to straighten and move the machine away from the wall after every load. It is the noisiest machine I have ever had. When I asked for a service tech to come out, I was told that I would be charged $145 even if there was nothing wrong with it.. I cant believe a machine could be so noisy. Am very disappointed in this product. I would be very interested to receive a reply from Simpson as to the possible cause of the noise and if there maybe something they can do about it or do I just have to put up with it cause that's the way it should be????????!!!!!!!!!!
Date published: 2018-03-07
Rated

4

out of

5
by
John Ungvary
from
Good machine that could be improved!
I do like a lot about this machine. It's size of 8kg is very good. Good styling in any modern laundry. Is an improvement on my old 5.5kg. It's not quiet, but not too noisy either. Some washing settings are just too long and I have to admit I have not read through the manual as I haven't had it for long! I do feel it should automatically switch off after the cycle is completed. Overall, a very good machine and for $608 I feel it is very good value
Date published: 2017-09-17
Rated

5

out of

5
by
Shaunne57
from
Love my top loader
This is my third Simpson Washing machine in 36 years and the reason I have stuck with Simpson machines is because they are easy to use and offer options that meets my family needs. The washing machine cleans the cloths extremely well when the instructions are followed. The manual is very clear and gives options as to why cloths may not be clean e.g. to much washing liquid. Certainly would buy another Simpson washer.
Date published: 2017-11-08
Rated

5

out of

5
by
Philju
from
I am in love!!!! ( with my new washing machine)
I cannot help you design a better washing machine. This one does everything I can think of. I love my top loader as it is just the right height. The wash level is automatically chosen, the detergent is premixed and I have designed my own wash cycle.The soft close lid is beautiful and easy to clean. This is my third Simpson in 40 years of buying washing machines. Well done.
Date published: 2017-11-07
Rated

5

out of

5
by
Michelle Vella
from
easy to use
I was struggling to find a washing machine that would be easy for my 71yr mum as they are all digital now, it is easy to use. the only setting i don't like or use is the auto fill water level it doesn't put enough water for a good wash and the noisiest part of the wash is when it filling up at the start as it stops and starts, overall its great machine very happy customer.
Date published: 2018-03-20
Rated

4

out of

5
by
Howard
from
Very good machine
I purchased this machine about 2 months ago. This replaced an earlier Simpson 5.5 Kg top loader which lasted just short of 10 years, inspite of being used every second day. I had no hesitation in purchasing another Simpson. This new machine is very simple to operate and having a discount on the price plus a package of towels thrown in - How could I resist. Howard NT
Date published: 2017-08-12
Rated

5

out of

5
by
Pktpj
from
Great value and easy to use
The machine was not correctly installed initially. We recommend that you not let the installers go until you have run a full start. They had left the transportation straps in place. The machine made a dreadful noise when the wash cycle started. It now runs beautifully after the service technicians diagnosed and rectified the problem. We are very happy with it.
Date published: 2017-09-07
Rated

4

out of

5
by
Jenray
from
Great buy
I bought this washing machine back in May after my previous Simpson Top Load Washer died after 28 years (during which time I only had to have it fixed once). So you can imagine the electronics on the new machine daunted me a little because my old only had a knob to turn to set the wash you wanted. But the new one is very easy to use. The only thing I do not like is the drawer that detergent is put into. If I take it out completely at the end of a wash to empty out water from the softener compartment, it is very hard to get back in and I can imagine myself breaking the plastic bit where the drawer goes in when the machine gets older. I love the strong lid with the glass top. After hearing of Samsung washing machines catching fire I was relieved to hear from the salesman that for this model, Simpson is the only washing machine manufacturer that has encased its electronics so that similar fires cannot happen with these washing machines.
Date published: 2017-09-19
Rated

3

out of

5
by
Viv123
from
Great Washer - Faulty Motherboard!
We bought this washing machine 5 months ago. Everything was going great, love the size, easy to use, great features. Then one day it came up with an error alert mid way through a wash. Which wouldn't go away no matter how many times we turned it off at the wall. After waiting 2 weeks for an approved service rep to come around and check it out,
Date published: 2018-04-03
Rated

3

out of

5
by
Ray Pidgeon
from
Good machine but!!!!
The machine does a great wash & rinse but at the beginning there is too much fiddly stuff going on. Instead of just filling with water straight away it trickles in for a bit while the bowl moves intermittantly. Same as at the end of the spin. Instead of spinning a bit longer, it spins intermittently too. Plus it is a very noisy machine.
Date published: 2017-10-05
Rated

5

out of

5
by
Bazza100
from
Second one in 16 years
We had a 7.5 Kg purchased 16 years ago and it was perfect for all those years surviving our family of 5 children until last month when it finally died. . Now that we have the new 8 kg model with all the new features and ease of operation we could not be happier and if this one survives another 16 years thumbs up to Simpson
Date published: 2017-11-26
Rated

5

out of

5
by
Cosmicwolfr
from
Simpson Top Loader
I bought this machine because I needed a bigger and more heavy duty machine to wash household bedding, dog blankets etc. It is by far the best machine I have had to date. Easy for my housemate to use who is totally hopeless with technology based appliances. It's a set and forget machine. I definitely recommend for families.
Date published: 2017-12-05
Rated

4

out of

5
by
Missy
from
Performance
I bought this approx a month ago.Washes very well only complaint the cap on top of the agitator has split currently taped up with duct tape.Also after filling powder dispenser with washing powder and fabric softener when you push the dispenser back in it will release softener into wash before you can start machine.
Date published: 2017-07-27
Rated

5

out of

5
by
Workhorse
from
Great Washing Machine
I purchased my new Simpson washing machine after my last Simpson washing machine gave up after 14 long years of service. As my last machine was a 5.5kg capacity, and my circumstances have changes I opted for the 8kg model. I am very happy with my new Simpson washing machine and can't believe the amazing capacity.
Date published: 2017-08-05
Rated

5

out of

5
by
deb 6
from
Great washing machine
I bought this washing machine about 4 months ago,and so far really good.Very easy to use and my washing comes out nice and clean ,love how it beeps to let you know when the washing is done,my last Simpson washing machine lasted for about 8 years without any trouble at all,hope this one is just as good.
Date published: 2017-11-08
Rated

5

out of

5
by
J9xo
from
Simpson washing machines are amazing!
Love my new machine, easy to use, well built and looks really stylish in the laundry! I have always loved Simpson washing machines but was talked into getting another brand for my last machine... it chewed clothes and blew up after only 6 years so I've come back to the best and couldn't be happier!
Date published: 2017-11-17
Rated

2

out of

5
by
UnhappyDeb
from
NOT Happy
I did NOT know that Electrolux had taken over Simpson, I would NOT have bought this machine. There is NO End of Cycle alarm, the noise it makes is so quiet, you have to be in the laundry to hear it. When I rang for Service, I didn't get any, and was told to take the machine back to Beta. NOT HAPPY
Date published: 2018-01-03
Rated

5

out of

5
by
JC Rosebud
from
Excellent washing machine
I bought this a few weeks ago ready for moving into our new home. The machine is quiet, efficient, washes well and easy to use. My last Simpson washing machine lasted for 25 years and was still going but decided to get a new one. That was the reason for purchasing another Simpson.
Date published: 2017-08-11
Rated

5

out of

5
by
Toogoomlady
from
Best Value
15 years ago I bought a Small SimpsonTop Load Washer . 5 years ago I gave it to my son who is still using it. I had another brand for 5 years but i had to go back to 8kg Simpson Top Load Washer. I am more than happy with it & would definitely recommend it to family & friends.
Date published: 2017-12-05
PRODUCT PROFILE
Domestic warranty details (yrs)

2
Capacity (Kg)

8
DIMENSIONS
Total height (mm)

1076
Total width (mm)

670
Total depth (mm)

680
Height with lid open (mm)

1490
Depth with hoses (mm)

730
ENERGY
Energy Star Rating New

3
Energy consumption cold water (kWhr/yr)

130
Energy Consumption Warm (KWhr/yr)

460
Water efficiency star rating

3
Water consumption (litres)

109
WASH PROGRAMS
Number of Programs

11
Toploader Wash programs

delicates,hand wash,rinse and spin,heavy duty,Regular wash,Cold wash,Bedding,drain and spin,Daily 45,Quick 20,Favourite
Wash options

wash temperatures,variable water level,Rinse option,spin selection
weight (kg)

8
Dispenser

bleach dispenser,Softener dispenser,Powder or liquid detergent dispenser
On screen stain guide

No