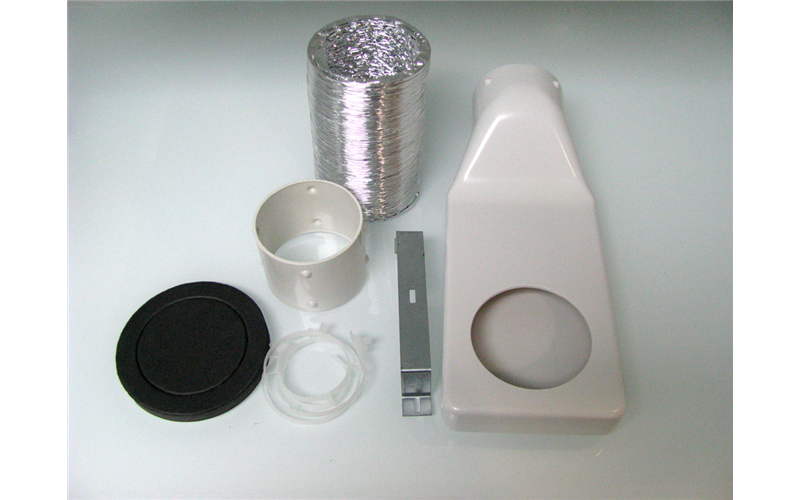 DVK004
Dryer kit vent hose
Dryer kit vent hose
is rated out of
5
by
8
.
Clothes dryer vent kit with 2.4 m hose
Key Features
Optional flexible exhaust venting kit
Rated

5

out of

5
by
Noel Leeming
from
life affirming
Without a doubt, the very best vent kit for a simpson/electrolux dryer that I have purchased all year. Not only did it attach to the dryer easily, it also did not fall off when I attached the dryer to the wall. After completing this DIY masterclass, I was able to drink beer on the deck all afternoon without issue.
Date published: 2020-05-10
Rated

5

out of

5
by
Benny
from
Electrolux/Simpson Venting Kit
Great kit for expelling the hot air out an open window/door.
Date published: 2020-05-03
Rated

5

out of

5
by
J McKay
from
Vent Kit
Kit was as described. Easy install and works perfect.
Date published: 2020-05-02
Rated

3

out of

5
by
jonesy1
from
could be better
airflow isn't as good as I wanted , needs to have curved outlet
Date published: 2018-11-22
Rated

5

out of

5
by
Emmm
from
Exactly as Advertised
Does the job it's meant to. Not much more to say for a venting kit.
Date published: 2018-09-12
Rated

4

out of

5
by
Sh0tgun98
from
Functional
I brought this a month ago and it functions as advertised
Date published: 2018-07-10
Rated

4

out of

5
by
whatfor
from
does exactly what it says on the packet !
does exactly what it says on the packet , quick delivery.
Date published: 2016-09-11
Rated

4

out of

5
by
Timothym
from
Simpson Tumble Dryer Vent Kit DVK004
I could tell by the courier's smile that this was something special. Taking care not to damage the contents, I slit the packing tape and emptied the box gently onto the carpet. The Simpson Tumble Dryer Vent Kit DVK004 consists of a diverter, a self-adhesive foam seal, a ducting hose, a saddle clamp (with two screws), an outlet adapter, two hose clamps, an installation guide, and several small plastic bags of particular interest to plastic bag collectors. The sleek white plastic diverter attaches to the rear dryer outlet, padded by the foam seal and secured with the saddle clamp. Because the foam seal is similar in shape to a donut, and hardly anything like a small walrus, leakage is prevented. The DVK004 is designed to work with several makes and models of clothes dryer. On our clothes dryer, a 4 Kg Simpson EziLoader, the diverter sits at an odd angle - protruding some 15 cm from the bottom right-hand side of the machine, where it could easily be knocked and broken. If you have trouble thinking of yourself as a clothes dryer, imagine yourself as an observer facing the front of the machine. Then, the diverter protrudes from your left-hand side. Not from _your_ side, exactly. But from the machine's side. Specifically, from the machine's right-hand side. It is difficult to explain. Plastic clamps fix the 2.4 metre flexible ducting hose to the diverter. These clamps don't feel especially secure, but we haven't noticed any water leakage in over a month of use. The ducting hose itself is just long enough to reach from the bottom of our machine to the open laundry window. The hose is made from a thick, shiny, wire-reinforced foil. If you ever find yourself building the arm-flailing Robot from "Lost in Space", you will find the DVK004's ducting hose ideal.
Date published: 2016-08-06
PRODUCT PROFILE
Product Relates to

Wine Cabinets